Corporate Profile
We as EFC Group with an aim to be one of the leading service providers in 4 PL, have humbly started our own Container Freight station at Nhava Sheva, Navi-Mumbai, India. We have endeavored to set up a State Of The Art CFS. This CFS would showcase the technologically advanced infrastructural designs as set in the 1st Phase and 2nd Phase. Our CFS at Nhava Sheva, has been set to develop in two phases-First phase area is 40,468 square meter approx., and the second phase is of 60,702 Square meter approx. 1st Phase CFS facility is fully developed and operational and has a capacity to handle in approx. 50,000 TEU's per annum and 2nd Phase would cater to another additional volume of over 70,000 Teus' per Annum.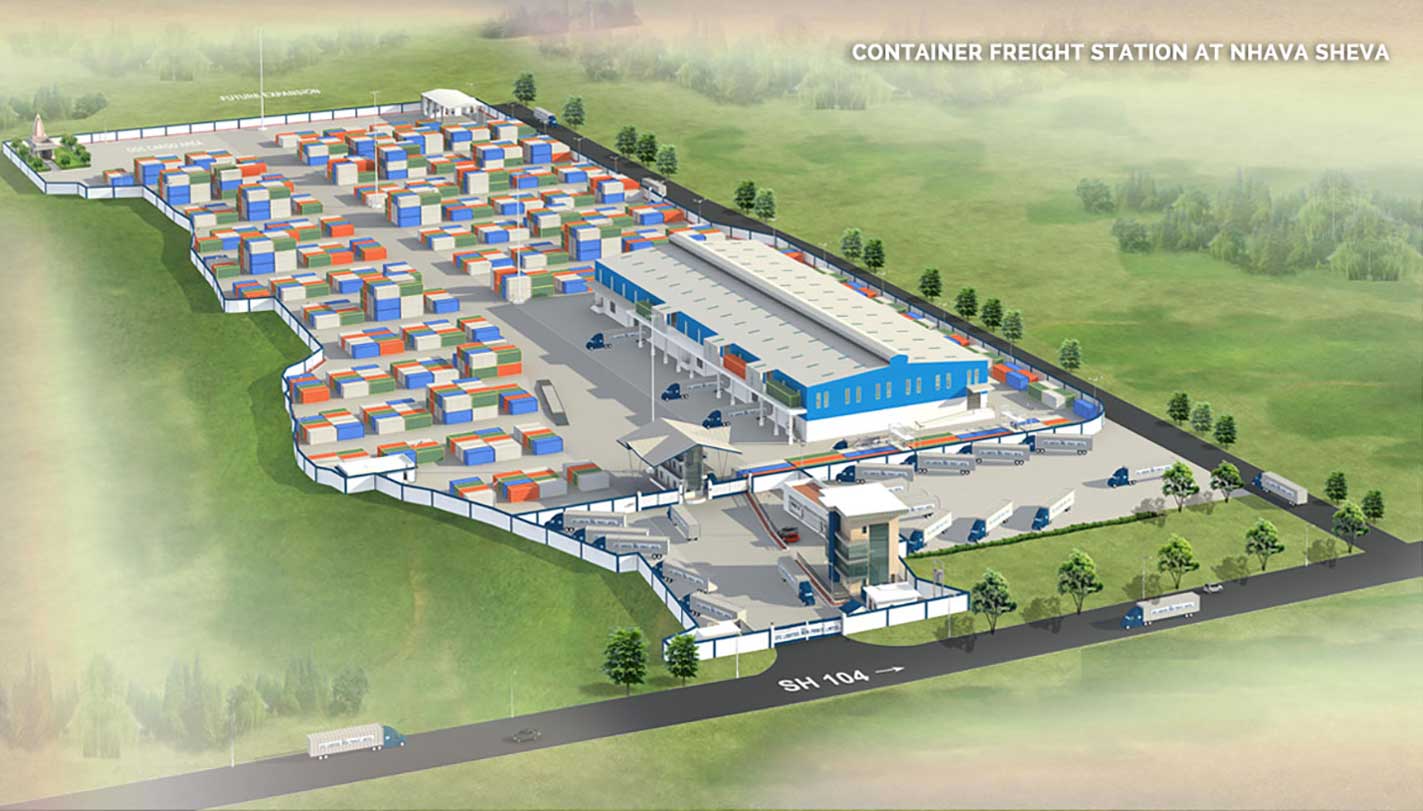 Ideal Location
Our CFS is ideally located at a close proximity of approx. aerial distance of 11 kms from the ports at Nhava Sheva. We are also well connected through the major state and national highways such as SH 54, SH 104, NH 4B and MIDC Road. There is no congestion on these routes and consignee and shippers don't have to pay toll charges to access our CFS.
Comprehensive Services
Along with In house trucking facility, we also offer additional Empty dry, reefer and tank storage facility through our own empty depots adjacent to the CFS facility for ease of overall CFS operations.
Emergency Services
We are also specialized in handling laden ISO tanks & Reefers in our CFS, and are equipped to handle emergency repair of laden tanks and Reefers as well 24*7.
Reefer Facility
We have several Reefer Gantries in our CFS, and have more than 52 reefer plug points. We have 3 Gensets of 50kva, 125 kva, 380 Kva and a transformer of 740 Kva for round the clock power supply. We also have in house reefer PTI, repairs and monitoring team. We also undertake reefer monitoring at all the ports at Nhava Sheva. We are authorized Agents for Carrier Transicold Pte Ltd and Mitsubishi Heavy Industries.
Safety & Security
For us Safety comes first, we have advanced and completely automated fire-fighting equipment's installed in our warehouse, buildings & open areas. Our warehouses have sprinklers, smoke detectors, beam detectors and foam jets. The warehouse is a G+1 Facility with conveyor system. We also have experienced Hazardous material handling team and facilities.
We have ample spacious stacking area for all types the laden containers, which can be easily located and tracked by the most advanced RFID systems as of today in the industry. Our entire CFS area and in around areas are under 360 degree CCTV surveillance 24*7, with our live feed viewing & recording software.
IT, Systems & Equipments
We have one of the most advanced CFS software with features of E-Tracking, E-Invoicing and E-Payment Modules linked to our website. We have In-House well equipped IT set up and have well trained and experienced IT & Systems Engineers on board for round the clock dedicated services. We have ample online servers for data back and data recovery in case of power failures.
We have several imported reach stackers alongwith Fleet of 3 tonne, 5 tonne and 12 tonne forklifts. All the reach stackers, forklifts and empty handlers are our own. We also have Heavy duty cranes above 30 MT on site 24*7. 100 Mt Electronic Weigh Bridge on site. We have several boundary peripherial light poles along with 4 High Intensity lighting masts towers and warehouse lighting are installed for added safety and security in our CFS premises. We have round the clock 24*7 security personnel on site, and they are also trained in Fire Fighting and Evacuation procedures in case of emergencies.
Additional Facilities List
An esthetically designed office block for Customs, shipping lines/agents, CHAs, surveyors is provided within the CFS.
We have separate In & Out Gates for congestion free movements and safety as well.
We have pedestrian pathways all around the periphery of the CFS for safe commutation of customer, visitors and staff at all times in the premise.
We have high boundary wall with secure fencing, and peripheral bullet cameras for additional security.
We have dedicated CCTV station which monitors our entire CFS premises and in and around areas as well to avoid breach of security.
Shuttle service for customers with a frequency of 15 minutes for transportation for Customs Documentations.
At the Gate In, The EDI connectivity and on-line computer systems are available in the CFS. For Ease of Access, Cash Counter, Movement & Seal cutting counters are adjacent for hassle free service.
We have E-Business Centre which caters to E-Invoicing and E-Payment. We have guest login systems in place for E-Tracking of Containers.
For Valuable and precious cargo we have strong room in our warehouses.
Fumigation / lashing / chocking / palletization and shrink wrapping services are available.
We have a canteen on premises for our customers to relax and unwind with television feature.